SeatOn Clover - Pending requests
Pending requests screen lists all customers' reservation requests which have come through the restaurant web page or by phone using the IVR system. You can approve reservations and assign table using the button Assign table(s), or reject reservations using the button Cancel. Once a table is assigned, a notification is sent to a customer. The screen is accessed from the menu and is divided in two sections: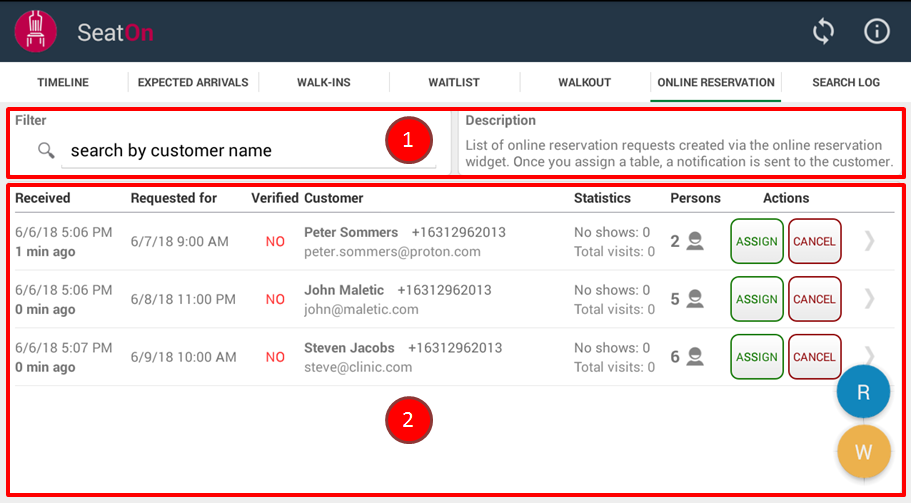 1. Filter pending reservation requests by customer name
Listed pending reservation requests can be filtered by customer name. As you type, pending reservation requests will be shown automatically in the list.

2. Pending reservation requests list
Pending reservation requests are listed in a table with the following columns:

Received - time when the reservation request was received, i.e. when the customer gave his reservation request
Requested for - requested time of the reservation request, i.e. requested visit time
Channel - origin of the reservation request
Verified - when reservation request is made, customer is sent confirmation email on which he should respond. This column shows whether the customer responded to the confirmation email sent to him.
Customer - customer name, surname and contact data
Comment - comment which a customer left for this reservation
Persons - number of covers requested
Actions -

Cancel - cancel the selected reservation request. If you choose to cancel this reservation request, it won't be recorded in the expected arrivals list:
Assign table(s) - if you have decided to approve reservation request, click this button and select tables to be reserved for this visit. You will be taken to the New reservation page, where customer reservation request data will be predefined (day and time of visit, number of covers, customer name and customer contact information), like shown on the picture below. On this page you can also check additional customer statistics, and detect potential no-show customer. With a click on the button Find tables, you can check the list of available tables at the specified time. Select desired table(s) and click the Create reservation button in order to make a reservation.